Adam Lambert, TOH turné, Austrálie a Nový Zéland
Z Číny, Japonska a Jižní Koreje se Adam a jeho skupina přesunuli na Nový Zéland. No a byl to dost velký skok, nejen ve vzdálenosti, ale také teplotní. Zatímco v asijské části světa panovalo obdobné počasí jako u nás v zimě, chlad (mráz), sníh a v Pekingu se Adam dokonce setkal s inverzí, před kterou ho jeho věrní a starostliví fanoušci varovali hned při příletu a letišti (a dokonce mu darovali i masku, aby se chránil před smogem), v australské a novozélandské části světa v lednu panuje léto a teploty tam většinou stoupají vysoko nad 30 °C. Takže opravdu veliký teplotní skok. Ale co se dá dělat… The show must go on. 🙂 A tyhle show tedy sály za to! Celkem 6 koncertů a všechny byly vyprodané!
Adam měl na těchto koncertech předskokanku – Melanii Martinez (https://cs.wikipedia.org/wiki/Melanie_Martinez).
22. 1. 2016 Nový Zéland, Auckland
Vyprodáno:
Jan. 22, 2016: Auckland, New Zealand: Auckland Town Hall: 2,255 of 2,255 (SOLD-OUT): $128,945
Fotoalbum FB:
https://www.facebook.com/media/set/?set=a.1030199353687949.1073742401.180468061994420&type=3
Videa:
http://adamlambertmtt.com/viewtopic.php?f=78&t=931
Zajímavosti:
Adam měl v Aucklandu v první části svého vystoupení bílé vysoké boty (předtím a i potom nosil jen černé)
V koncertní síni bylo horko… vedro . A my jsme se dočkali poprvé (doufejme že ne naposledy) na pódiu Adama v tílku. Jo tak to byl FEVER!
A při Trespassing si dokonce zazpíval s  větrákem:      
https://video.twimg.com/ext_tw_video/690468428558237696/pu/vid/360×640/mI0ZX2YfSinI1-NH.mp4  
Když Adam zpíval TISI, fanoušci v publiku drželi nahoře své mobily, na kterých měli znak srdíčka:    
When @adamlambert sang There I Said It we held up our phones with this pic on. #TheOriginalHighTour #Auckland pic.twitter.com/bIYJrxyWz9 — BorneoBert (@BorneoBert) January 22, 2016
V Aucklandu se ale vyskytly problémy s technikou, které se projevily velmi nepříjemným způsobem. Z reproduktorů se během vystoupení ozývaly rány, které zněly jako výbuch nebo střelba. Když se ozvaly poprvé, fanoušci, kteří je zaslechli se určitě dost vyděsili (není divu v dnešní době). Jestli Adam slyšel hned ten první výbuch není úplně jisté, bylo to v první části jeho vystoupení a hudba zněla dost hlasitě. Zcela určitě ale slyšel ty, které zazněly, když zpíval své pomalejší písničky WWFM, TISI – na videích je patrné, jak to s ním v jednom okamžiku přímo škubne. Ale ustál to a pokračoval ve zpěvu jako by se nic nestalo. Potěšený tím zcela určitě nebyl, no ale i to patří k živým vystoupením. Publikum bylo skvělé, za což jim Adam poděkoval na svém Twitteru.
Recenze:
http://libel.co.nz/blog_posts/8576-adam_lambert_with_photos
http://tearaway.co.nz/in-review-adam-lamberts-the-original-high-auckland-show/
http://thewireless.co.nz/articles/review-adam-lambert-at-auckland-town-hall
25.ledna 2016 Austrálie, Melbourne I  
Adam měl v Melbourne celkem 2 koncerty a oba dva byly také vyprodané:
Jan. 25-26, 2016: Melbourne, Australia: Palais Theatre: 5,469 of 5,469 (2xSOLD-OUT): $189,938  
Fotoalbum FB:
https://www.facebook.com/media/set/?set=a.1032019393505945.1073742403.180468061994420&type=3  
Tady je ještě fotogalerie, z FB Mish Klob. Pokud si zkopírujete adresu některé z těch fotek a dáte ji do adresního řádku, dostanete to foto v HQ kvalitě:
https://www.facebook.com/photo.php?fbid=10207868812225730&set=pcb.10207868838586389&type=3&theater  
A ještě další profi fotky:
http://amnplify.com.au/cpt_photos/adam-lambert-melanie-martinez-the-palais-theatre-250116/
http://tinselandtapshoes.com/2016/01/29/adam-lambert-the-original-high-in-photos/  
Fotoalba ze všech koncertů v Austrálii – stojí za skouknutí:
https://www.flickr.com/photos/pomegranate02/albums  
Videa:
http://adamlambertmtt.com/viewtopic.php?f=78&t=790  
Zajímavosti:
Adamova matka Leila a její přítel si zřejmě udělali dovolenou v Austrálii a samozřejmě při tom navštívili i Adamovy koncerty. Adam neopomněl zmínit, že je jeho mamka v sále při Trespassing/AOBTD slovy: "That's my mom." (To je moje mamka) – v tomhle videu na 0:28  
28. ledna 2016 Austrálie, Melbourne II
Opět vyprodáno  
Fotogalerie na FB
https://www.facebook.com/media/set/?set=a.1032657836775434.1073742405.180468061994420&type=3  
Videa:
http://adamlambertmtt.com/viewtopic.php?f=78&t=939  
Recenze:
http://music.theaureview.com/reviews/live-reviews/melbourne/live-review-adam-lambert-melanie-martinez-palais-theatre-melbourne-26-01-16/
http://themusic.com.au/music/livereviews/2016/01/27/adam-lambert-palais-theatre-bryget-chrisfield/  
Zajímavosti:
Adamovy věci, které se na koncertech prodávají, šly asi dobře na odbyt, protože na druhém koncertě byly nejméně o 10 – 20 dolarů dražší než na tom prvním. Kdo první večer zaváhal, měl smůlu. Buď si připlatil nebo neměl nic.
Wow merch price hike. Hoodies $70 yesterday. $90 today. — Nadine ♐ (@citygirl36) January 26, 2016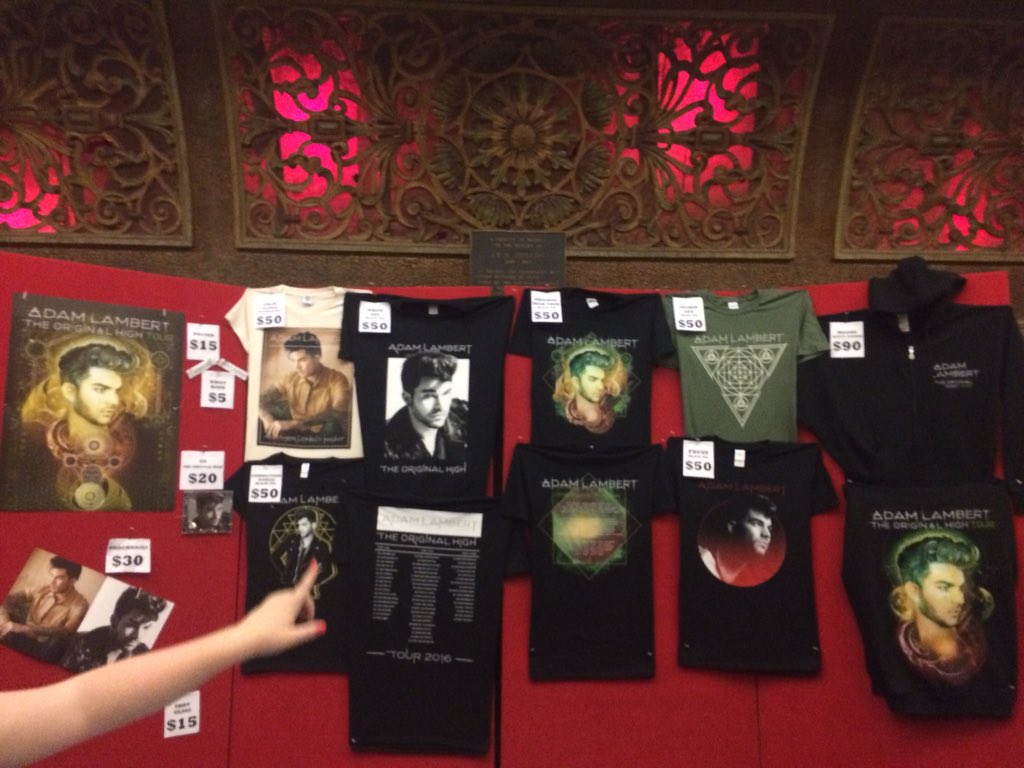 Na koncertě byla asi dosud nejmladší fanynka v publiku (jsou jí čtyři). Adama si přála pod stromeček od Santy. A Santa její přání splnil. 🙂    
She got front centre! Yay pic.twitter.com/QpVEBgjTth — Nadine ♐ (@citygirl36) January 28, 2016
A měla to štěstí, že se setkala i s Adamem:
— GlamFam (@Leader4GlamFam) January 29, 2016
  Mohli jste si toho všimnout ve fotogalerii, ale pokud vám to uniklo, tak tady je připravené občerstvení pro Adama a jeho skupinu a tanečníky – všechno pěkně popsané a zabalené 🙂  
Adams food pic.twitter.com/8O4eMdQSak — FlashtasticGlambert (@GustinsGlambert) January 26, 2016
Ten den byl národním svátkem v Austrálii a Adam to věděl a taky neopomněl své Australské fanoušky pozdravit (během první písničky EITN a později pak ještě jednou):
Haha Adam just did the Aussie! Aussie! Aussie! (Oi oi oi) chant for Australia Day during EITN. Fit the beat really well. #AdamLambertMEL2

— Katie Purvis (@katiemelb) January 26, 2016
  Po skončení Mad World se Adam zeptal fanouška v publiku, jestli ho rozbrečel a jestli je mokrý:  
After 'Mad World' to a guy in audience: 'Were you crying? Did I make you mist up? Did I make you wet? YESSS!' #AdamLambertMEL2 (fixed typo!) — Katie Purvis (@katiemelb) January 26, 2016
a dodal: "To je moje práce", a pak si znova s publikem připomněl, že Austrálie měla ten den svátek:
https://video.twimg.com/ext_tw_video/691937765857083392/pu/vid/360×640/WDJ-J8llz3yRvTR5.mp4
Adam ten večer vynechal TISI.
Na IIHY se převlékl do nového KTZ trička, které si přivezl z Asie:
He changed! pic.twitter.com/usW26L8t3s

— funkNNsoul (@funkNNsoul) January 26, 2016
  A také dal jasně najevo všem, kteří na netu vyjadřovali svůj názor, že by měl zpívat původní a ne reggae verzi IIHY, že tato verze se mu líbí, je dobrá a že zůstane. 🙂  
Very fun extended call-and-response reggae singalong for IIHY – he said the song needed a change-up & he loves it this way #AdamLambertMEL2 — Katie Purvis (@katiemelb) January 26, 2016
Můžete ho slyšet jak to říká tady kolem třetí minuty:
30. ledna 2016 Austrálie, Sydney I
Oba koncerty v Sydney byly stejně jako ty předchozí vyprodané:
Jan. 30-31, 2016: Sydney, Australia: Enmore Theatre: 4,850 of 4,850 (2XSOLD-OUT): $280,064
Fotoalbum na FB:
https://www.facebook.com/media/set/?set=a.1034713483236536.1073742409.180468061994420&type=3
Videa:
http://adamlambertmtt.com/viewtopic.php?f=78&t=792
Recenze:
http://www.4ye.co.uk/2016/02/chasing-the-original-high-with-adam-lambert-in-sydney/?utm_campaign=shareaholic&utm_medium=twitter&utm_source=socialnetwork
http://www.dailymail.co.uk/tvshowbiz/article-3424139/Adam-Lambert-performs-Sydney-wearing-futuristic-inspired-jumpsuit.html#reader-comments
http://www.dailytelegraph.com.au/newslocal/inner-west/adam-lambert-brings-high-octane-energy-and-a-fastpaced-concert-to-the-enmore/news-story/d0502df5467b9783e8b8962feee4786d
http://www.naughtygossip.com/boom/adam-lambert-gives-good-shade
http://www.nova969.com.au/music/adam-lambert-gave-us-what-we-wanted-sydney-show#.VrArgfhtQJm.twitter
http://renownedforsound.com/index.php/live-review-adam-lambert-30th-january-2016-enmore-theatre-sydney-australia/
http://sandrashakespeare.com/chasing-the-original-high-with-adam-lambert-at-sydneys-enmore-theatre/?utm_content=buffer72b42&utm_medium=social&utm_source=twitter.com&utm_campaign=buffer
http://sharrit.net/adam-lambert-performs-in-sydney-wearing-futuristic-inspired-jumpsuit/
http://thomasbleach.com/2016/02/04/live-review-adam-lambert-enmore-theatre/
Zajímavosti:
TISI se vrátilo na setlist.
Adam měl na sobě ve střední části koncertu opět svůj starorůžový "sakurový" oblek, a protože den předtím oslavil své 34. narozeniny, publikum mu zazpívalo "Happy Birthday":
Adam poděkoval publiku za přání a snažil se to zlehčit slovy: "ale to bylo včera…", a pak poděkoval, že přišli na show a zavzpomínal, že v tomhle divadle hrál před šesti lety (GNT) a zeptal se, kdo tam tenkrát byl – odpověď publika ho zjevně příjemně překvapila: "WOW! Hej, dík, že jste se mnou zůstali, oceňuji to." Pak pokračuje: "Tahle show tady dnes, je něco jako cesta. Já vím, že je to cliche, ale, následujte mně chvilku. Tamta první část té show, to bylo všechno o mém hněvu, dostal jsem to ze sebe. Víte, svět ve kterém dnes žijeme může být děsivý, je tam hodně zla v tom světě. Ale víte co?" Adama pobaví reakce fanynky v publiku a s úsměvem na ni ukáže (1:18) "Co?" Pak se rozesměje a: "Já vím, že jsou to trapárny, ale dejte mi šanci. Chtěl bych mít proslov (kázání) aspoň na několik minut, okej?" ukáže do publika "Ona s tváří jako 'blé'". *smích* "Prostě bojujte se se vším zlem na světě, se vší tou temnotou, kterou vidíme denně v televizi nebo jednou se může objevit i u nás na dvorku. Prostě s tím bojujme! Je to na každém z nás, abychom našli nějakou lásku a světlo sami v sobě. Protože jediný způsob, jak můžeme porazit to zlo je ten, že budeme šířit lásku. Uděláme to spolu? A někdy ten nejlepší způsob jak se zbavit všech těch sr**ek je klást ty správné otázky."
Při encore měl Adam velmi hravou náladu a v jednom okamžiku si ručníkem šáhnul dokonce pod tričko, utřel se a ten ručník pak ohodnotil slovy: "Ewww, to je příšerné" (ale fanynka, která ho pak dostala si to určitě nemyslí :)). Adam se dokonce zeptal, co s tím ručníkem bude dělat a sám si změněným hlasem odpověděl: "Umyju se tím." 😀
My life is complete @adamlambert God you make me laugh ❤️❤️ pic.twitter.com/CawSDMETGe

— Penelope Marina (@penelope_marina) January 30, 2016
Adamovi se ten večer povedlo ztratit obě jeho náušnice co měl v uších – při AOBTD. Jedné si všiml (kolem 2:30), zvedl ji a dal jí na to mini pódium co tam má a druhou zvedla Holly (2:24).    
Leila i její přítel Ray byli opět na koncertě – seděli na balkoně.  
Leila & Ray sat behind Mum & Aunty in the lounge. Ray walked over & peered over the balcony & said "Wow…..wow look at the people" — lovesummer22 (@lovesummer22) Tháng 1 30, 2016
31. leden 2016 Austrálie, Sydney II
Fotogalerie na FB:
https://www.facebook.com/media/set/?set=a.1035285363179348.1073742410.180468061994420&type=3
Videa:
http://adamlambertmtt.com/viewtopic.php?f=78&t=940
Zajímavosti:
Adam se ten večer mohl pochlubit novým tetováním (na levém zápěstí).
Vlastně nám je ukázal ještě před koncertem.
No a pak už přišel na řadu poslední TOHT koncert v Austrálii. Vyprodaný, jako obvykle. Chybička se vloudí… U Underground začalo omylem hrát intro pro Lucy. Na videu to nemáme, můžete to slyšet jen tady na audiostreamu (na 18:27)      
 Adam byl s koncertem a hlavně s publikem velmi spokojený a měl chuť se dobře pobavit. A dal to najevo:  
Wow!!! Sydney #2 was wild!!! And ummmm all u pretty boys better be out tonight!!!! — ADAM LAMBERT (@adamlambert) January 31, 2016
Později v rozhovoru pro iHeart Rádio řekl, že v tom publiku viděl tolik hezkých kluků, že mu to prostě nedalo a doufal, že se s některými z nich pak ještě někde potká. (No… vlastně asi potkal – na afterpárty, kterou si určitě užil.) 🙂
A ještě jedno malé sexy video na závěr:
BTW @adamlambert I love that the mic is your bitch. pic.twitter.com/dsIlPOcWps

— funkNNsoul (@funkNNsoul) February 1, 2016
*shimoli*